Your Donation Makes A Difference!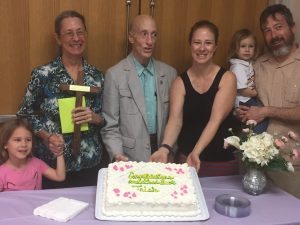 Since 1985, CarePartners has partnered with hundreds of congregations, organizations and other nonprofits. We have been bringing caring volunteers together with families to provide support, education, respite, a break from caregiving responsibilities, and resources to family caregivers of individuals living with memory loss and other challenges of aging. I want to thank you for choosing CarePartners to support you during your journey. In 2019, CarePartners was able to provide more than 111,423 volunteer hours and serve 3,668 families through our four core programs: Gathering Place, Second Family, Common Ground, and Caregiver Education events.
Angy Newell began her caregiving journey in 2016 when her father found out he had a tumor on his brain stem; after several other major life events, including Hurricane Harvey hitting, her mother, Trish was diagnosed with Alzheimer's Disease. "It's been a crazy four years," Angy said. "My dad was in and out of the hospital, my son was born and then Harvey Hit. My parent's house flooded during Harvey and after rebuilding their home, they only lived there about six to eight months before he passed away. It was around Harvey when my mom got her diagnosis of Alzheimer's." Angy promptly invited Trish to come live with her, her husband, and their two children. It's been about a year since Trish and Angy became involved in CarePartners' programs. "Not only is she dealing with the Alzheimer's but she's dealing with grieving for my dad, so having those people at the Gathering Place events has been huge for her," Angy said. During the pandemic, it has been challenging to keep Trish and her children engaged.
"Before COVID, we were signed up for eight Gathering Place events," Angy said. "That has been the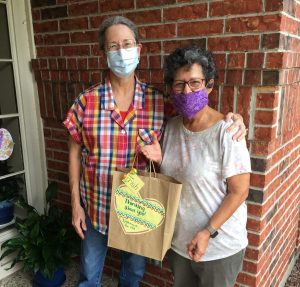 biggest challenge – not having that social time that she was having with the volunteers and her friends there, and the dancing. Once she started going to the Gathering Place, she just loved it and was just so happy for the rest of the day, so it's been a real life saver to have the Gathering at Your Place every week."
With your support, we will be able to expand our reach of the Care Team® Model, an evidence-based model that helps us train hundreds of volunteers who are committed to providing quality care for caregivers and their aging loved ones, so we can serve more families like Angy and Trish.