Strength and Hope through Tragedy
CarePartners Coordinator Katelin Jordan was recently catching up with a former caregiver, Lesley Lowry. Her husband, David attended the Gathering Place in Kingwood for about four years.
"Lesley and David's story is one of great resilience in the face of unthinkable tragedy," Katelin said. "She is my hero. I thought that I would take the opportunity and ask her to tell her story."
Below is a Question and Answer interview between Katelin and Lesley.
Q. Tell me about how you and David met and fell in love; your sons and family. Tell me about who David was before dementia, his hobbies, work, interests and his love for his family (which I know was huge).
A. "I met David almost 39 years ago to the month. It was a blind date and we were together almost from day one. He was fun-loving, enjoyed going out and shooting pool. He enjoyed music all his life. We lived in the country, so we always played music loud. I remember we went to my boss at the time's wedding and I told him that day that I loved him. We got married after about 2 1/2 years of dating. We have two wonderful sons and a beautiful daughter. We had our sons first and after the 2nd one, he told me if I wanted, we could try for a girl. I told him it's not a big deal as long as they were happy and healthy, it was good. Two years later, Jackie was born and she had her daddy wrapped around her finger. We did so much as a family when the kids were growing up. A few vacations here and there too."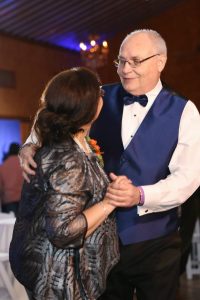 Do Not be Afraid to Ask for Help
Q. When did you start to notice David Changing? When was he diagnosed?
A. "We were told David had a sleeping REM disorder which was why he was having memory issues. Years later, it was early on-set Alzheimer's. He was diagnosed in December 2013 and again in February 2014. I didn't believe the first doctor so we got a second opinion. My goal was to keep him home with me as long as possible and to live his life to the fullest. I was never afraid to take him anywhere with me. Our first cruise was right after he was diagnosed, and I took him on three more. He did enjoy them."
Q. If you could tell a current caregiver anything, what would you share to give them hope or strength?
A. "Well, this is a tough one to answer. One year after David was diagnosed, my oldest son was diagnosed with terminal cancer, and six weeks later my middle son died from suicide. My story is a tough one, but I give others so much strength from my story. I do share it. It's made me who I am today. No matter what has happened to me, I believe someone has it worse than I do."
Let People In
Q. How did you learn about The Gathering Place? How long did David attend?
A. "Millie Craig was running a support group and she had given me the information on the Gathering Place. I think David went for 3-4 years."
Q. What was David's favorite part of the Gathering Place? Who were his favorite volunteers?
A. "David enjoyed the music and dancing. That was his favorite, and yes, he loved the ladies. I don't think he really had a favorite one, but I had several. Those ladies and gentlemen rock.  [The volunteers] are some of the most caring people who just love others. It was a wonderful experience for my loved one and myself."
Q. What was the impact of caregiving on you?
A. "Boy where to start on this on…  
My health
Lack of sleep
[Questioning if] I'm doing enough for my loved one
Trouble accepting help
Anger
I was under doctor's care but always put David first. He was always my number one worry/concern. Do I regret keeping him at home as long as I did? No! I know if it was me, he would of done it all for me also."
Be Kind to Yourself
Q. Did having access to CareParnters staff, Gathering Place volunteers, and fellow caregivers on a regular basis help you as a caregiver?
A. "Yes, if someone noticed I was having a bad day one would come and talk to me. If I just needed to cry, I had a shoulder to do that on. I love to share what I've done for my husband to help others on their own journey. I have gotten a lot of friends from the support groups, Gathering Place volunteers and family members."
Q. If you could say anything to our CarePartners volunteers and donors, what would you say? What about caregivers?
A. "Keeping doing what you are doing. You have no idea of the smiles you put on so many faces. It's tiring work that you do and so very much appreciated and loved!! I would tell caregivers do not be afraid to ask for help.  Let people in. Be kind to yourself.  Join a support group."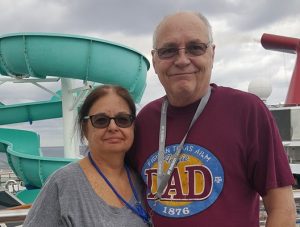 About CarePartners
CarePartners is a nonprofit, volunteer led organization that provides support, education, and resources for caregivers and quality care for those living with memory loss and other challenges of aging. Much of our care is for the vulnerable elderly and individuals with Alzheimer's or related dementia. CarePartners, serves all people at no cost. We provide life-changing care as well as educational and support services to families in the Greater Houston area through our four core programs; Gathering Place, Second Family, Common Ground and Caregiver Educational Events. Visit our Monitoring the Coronavirus webpage for more helpful resources.