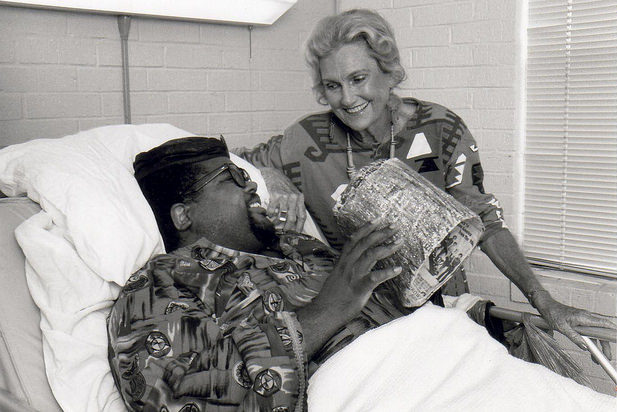 The Care Team® concept began in 1985 when CarePartners founders, Earl Shelp, Ph.D. and Ronald Sunderland, Ed. D., joined together to provide a support system of care for a colleague who was diagnosed with AIDS.   The founders started a network of congregational partnerships that could provide compassionate care through volunteer programs using the award winning Care Team® model.
As AIDS became a treatable disease the Care Team® concept expanded to serve persons with Alzheimer's, related dementia and other challenges of aging.
Today, our programs support the family caregiver and individuals living with memory loss and other challenges of aging.  Our Care Team® model continues to provide quality support through our partnerships with congregations and nonprofit organization across the Greater Houston area.
Our History at a Glance
April, 1985
A young man diagnosed with AIDS asks for help and the Care Team concept is imagined.
January, 1986
Members of Houston congregation begin forming AIDS Care Teams
February, 1987
AIDS Sabbath Observance draws extensive media coverage.
1986 – 1990
Founders Shelp and Sunderland gain attention for their cause through publications, newspapers, national media interviews, and speeches across the US.
September, 1988
Founders incorporate the Foundation for Interfaith Research and Ministry (FIRM) and begin operating as a non-profit 501(c)(3) organization.
By 1993
1165 persons with AIDS are served by Care Teams.
1993
New life-prolonging drugs begin to enable those with AIDS to be less dependent on others. Number served by Care Teams begins to decline.
1993
Board Member, Dr. Paul Gustafson, suggests a redirection of emphasis to persons with Alzheimer's disease or related dementias and their caregivers.
January, 1993
Memorial Drive Presbyterian Church begins first Alzheimer's Care Team to allow family caregivers respite time.
1994
Northwoods Presbyterian Church and Trinity Episcopal Church begin Second Family Care Teams to provide in home assistance to the weak and vulnerable.
January, 1997
MDPC, together with members of Memorial Drive UMC pioneers "Gathering Place", a 3.5 hour twice a month at the church for persons with dementia.
Corporate name changed to Interfaith CarePartners in order to better convey its servant mission.
2000
Brentwood Baptist Church begins Kid's Pals Care Team, project which was later discontinued in 2016.
2002
Caregiver Conferences and Workshops are offered
2008
Common Ground: Caregiver Conversations introduced as a support group for caregivers.
September, 2011
Southwestern Engery makes our resources available to their employees through monthly "Lunch and Learns".
2017
Organization adopts new DBA: CarePartners
---
To learn more, read our long history below: