Our signature Care Team program of congregation-based volunteers who are organized into teams and matched with persons who invite them to share their journey during a period of weakness is our largest and most intimate service program. From the earliest relationships in 1986 until now, lives have been transformed as team members and care partners embraced each other. Our use of the term 'care partner,' instead of the more common social service term 'client,' reflects the reality that in 'caring' relationships all persons give and receive care from each other.
In Their Own Words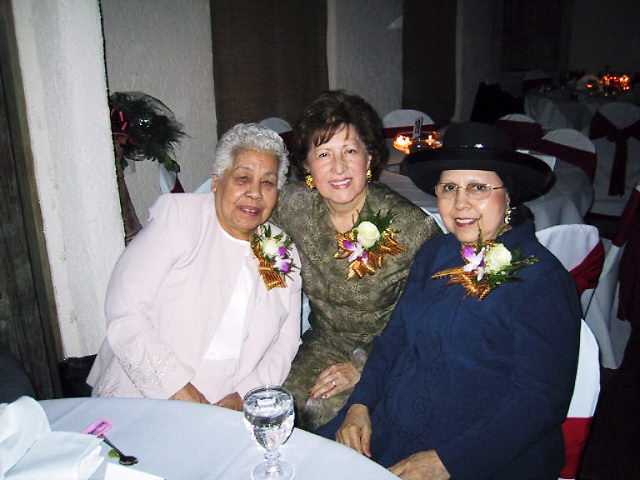 One way to understand how hearts are touched, spirits uplifted, and journeys eased is through the testimonies of people across the lifespan who are coping with physical challenges of diverse descriptions. No two stories are the same, but these recent comments are representative of the heartfelt gratitude of care partners for the gifts that Care Team members have been in their lives throughout our history.
An Hispanic lady in her 90s writes, "[The Care Team member] has been a blessing in my life. She goes out of her way to see I keep doctor appointments. She is my angel! . . . I know there is no way I can say what is in my heart for her. She has won my love and respect . . . a friend I can talk to. . . I bless her for [she is] there for someone like me who sometimes has no one else."
A Caucasian lady reports, "The volunteer that has blessed me with transportation to doctors' appointments is very caring. Her conversation always makes me feel a part of living again. I lost my husband suddenly. Three months later, I was run over by an SUV and backed off. After 2 months in a hospital and 4 months in a nursing home, life is quite different. I am no longer able to walk without a walker or teach/follow my career. Being 54 years old, handicapped, and by myself is a challenge. Thanks for all that your volunteers do!"
An Hispanic daughter tells about her mother who attends an Alzheimer's Care Team 'Gathering Place' activity program. "Our lives revolve around my 91 year old mother with dementia. My mom is not an early riser, so it is difficult to get her anywhere at 10 AM. However, I do my best to get her there because what she receives is amazing. The volunteers are so compassionate and totally focused on her needs. What a thoughtful idea to make sure mom gets one volunteer to stay with her throughout the time and keep her feeling safe.
One day I went to pick her up and she was involved with playing with a huge parachute and balloons! She was smiling and having a great time! She caught the balloon and her name was yelled out by the volunteers. She just loved it! Finally, when it was time to leave I said, 'Let's go mom.' She responded, 'Why?' Boy, that was so telling to me. She was having so much fun that she didn't want to leave. As we were walking to the car she said, 'You brought me here, right?' I smiled and said, 'Yes.'
I know that this is a simple story but it means so much to me that mom was safe and enjoying life. Thank you for that. And thank you for giving me time to get to the YMCA and focus on me for a change. I truly thank the kind and well-trained volunteers who help make our lives a little easier as we deal with this deadly disease of dementia."
An African American lady in her 80s says, "Not enough words to express how much the quality of my life has improved as a result of the help and friendship I have received from the team. I am legally blind, unable to drive, almost deaf. Thanks to Interfaith CarePartners, I have a happier and more enjoyable life."
Another lady in her 70s states, "The ladies are all gracious and possess great patience. Their friendship is my link to the 'outside world' since my health is quite a 'stumbling' block at present. Hopefully, I'll be able to once again accompany these great women and truly enjoy our friendship. Your organization is truly a God-send. I want to thank you for making my 'journey' much happier and less lonely than it would be without these truly beautiful human beings."
Lastly, a man in his 80s who cares for his wife with Alzheimer's disease tells of their experience, "It is difficult to think of only one instance of the kindness, care, and love that have come to us through the Interfaith CarePartners volunteers. You are an incredible group! Every day I thank God for the blessings you bring me. You have given me enough hours each month to complete tasks that I could only fret about before – while giving me a new enthusiasm that I hadn't seen for a long while. The volunteers encourage me to do things that I would not normally attempt – like art projects and charades. Each Gathering Place works to give me a feeling again that I am worthwhile. Bless you all!"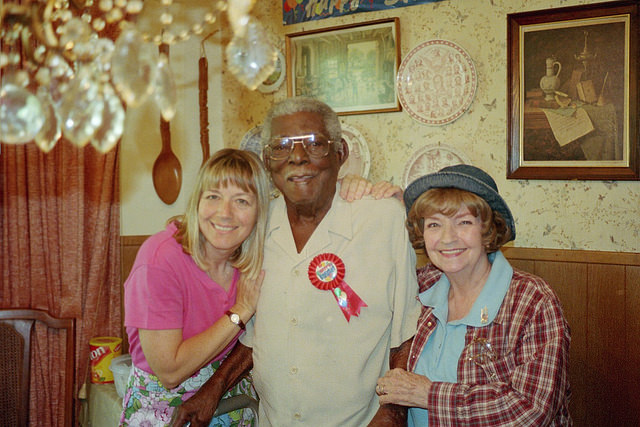 These testimonies illustrate how relationships are the heart of all that we do. Whereas illness, weakness, injury, and disability typically cause isolation, through the Care Team program they bring people together in a mutually supportive, rewarding, and tender embrace. Everyone gives and everyone receives.
Indeed, team members assist with tasks that make days easier and happier for care partners. They are eager to assist, even when a task is challenging, because of the bond that has been established with a care partner. Team members assist because they 'care' for the 'person' who needs a helping hand. In the final analysis, the ultimate impact or assessment of the Care Team program for 26 years is revealed most fully in the individual stories of relationships among thousands of Care Team members and thousands of care partners. These stories personalize or put 'flesh on the bones' of the statistical record of the Care Team program and other services that give life to our mission to care for weak and vulnerable people.
The Statistical Measures
All of Interfaith CarePartners' caregiving, educational, and training activities are person-centered and animated by our core values: (1) respect, sensitivity, and compassion for all, and (2) excellence and integrity in all that we do. If our programs did not express these values, our story would have and should have come to an end long ago. Instead, our 26 year history is one of recurring innovation, deliberate responsiveness to needs, and service to increasing numbers of people.
Our numerical record of service should not be interpreted solely as a series of numbers. Each number represents a person, like those whose testimonies are presented above, who received some benefit through Interfaith CarePartners. The data presented below account only for services that are presently offered.
The circumstances, challenges, and needs of each person represented by these numbers cannot be fully known. It is clear, however, that each one had a need that Interfaith CarePartners was able to meet. For example, Care Team members were given a structure and professional support within which they could fulfill the teaching of their faith traditions to care for others. Persons served by Care Team members (care partners and family caregivers) were provided many types of supportive services by educated and supervised compassionate volunteers who made a journey through a valley in life easier and more hopeful. Family caregivers acquired important information, learned skills, gained perspective, and received encouragement at support groups, conferences, and workshops designed to equip them for this time in life. We count people engaged in these programs. We do not track the number of people whose inquiries for information or assistance are handled by phone or who are referred to other agencies for assistance. Also, we have omitted below data on hundreds more persons with HIV/AIDS who received food from our pantry or accessed professional counseling or case management services.
Care Team Members*, 1986 – 2012
| | |
| --- | --- |
| AIDS Care Team Project (Begun 1986) | 4,142 |
| Alzheimer's Care Team Project (Begun 1993) | 3,790 |
| Second Family Care Team Project (Begun 1995) | 5,001 |
| Kids' Pals Care Team Project (Begun 2000) | 301 |
| | Total: 13,234 |
Hours of Team Member Volunteer Service, 1986 – 2012
| | |
| --- | --- |
| AIDS Care Team Project | 745,315 |
| Alzheimer's Care Team Project | 795,898 |
| Second Family Care Team Project | 688,106 |
| Kids' Pals Care Team Project | 13,920 |
| | Total: 2,243,239 |
Persons Served by Care Team Members*, 1986 – 2012
| | |
| --- | --- |
| AIDS Care Team Project | 2,033 |
| Alzheimer's Care Team Project | 3,841 |
| Second Family Care Team Project | 3,344 |
| Kids' Pals Care Team Project | 79 |
| | Total: 9,297 |
'Common Ground' (Caregiver Support Groups) 2008 – 2012
| | |
| --- | --- |
| New Registered Caregivers* | 225 |
Caregiver Conferences and Workshops 2005 – 2012
| | |
| --- | --- |
| Caregiver Attendance | 5,438 |
'Preparing and Sharing' (Employed caregiver 'lunch and learn') 2011 – 2012
| | |
| --- | --- |
| Employed Caregiver Participants* | 70 |
*Unduplicated
These data depict numerically how stewardship of the Care Team program resulted in service to an expanded population of weakened or impaired persons. Lessons learned during the years in which it concentrated on the needs of persons with HIV/AIDS led to innovative applications of the concept and practices to support a vastly larger number of people coping with a broad range of challenges across the lifespan and in every walk of life.
Whereas persons with HIV/AIDS were predominantly young adults, more than 95% of persons served by teams today are age 50 and older. In addition, our demographic data indicate that the Care Team program reflects the diversity of greater Houston with representatives of all major racial and ethnic communities, as well as socioeconomic groups, serving or being served in the program. Moreover, the data reflect our capacity to identify new opportunities for service and to create programs to meet those needs, especially the support needs of family caregivers.
Our records show that since 1986 through 2012, more than 28,000 unduplicated people have been involved in our programs as volunteer Care Team members, enjoyed the companionship and support of Care Team members as care partners or family caregivers, attended a support group, or participated in an education or training program.
The hours of service in the Care Team program given by volunteers are a clear indication of the dedication of these compassionate individuals who serve without fanfare. Their cumulative hours of recorded time may be appreciated better when translated into different time frames. For example, 2.5 millions hours is equal to 281,250 eight-hour days, 56,250 forty-hour weeks, over a millennium of years of full time employment (1,082 years), or 257 years of service 24 hours per day, 365 days per year. Moreover, the total market value of these hours of volunteer service, according to Independent Sector, is nearly $38 million.
Clearly, Care Team members have been extraordinarily generous with their time and talent. We extend our most heartfelt and sincere gratitude to each for creating an outstanding record of caregiving and for giving life to our mission.
Recognition and Awards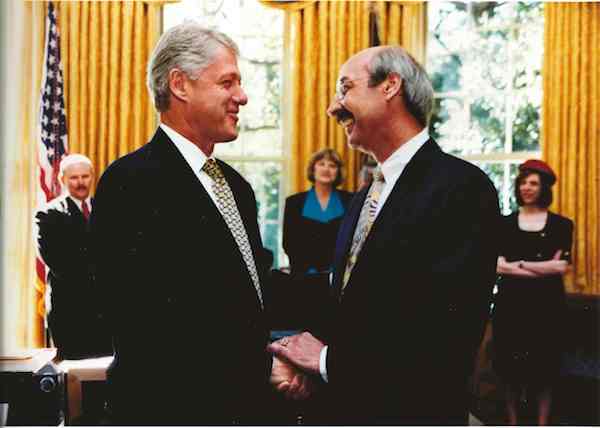 Along with the testimonies of persons served by Interfaith CarePartners and Care Team members, these statistical measures indicate, in part, why Interfaith CarePartners has been privileged to receive national, state, and local awards for innovation, program management, and service. The nation's highest honor for volunteer service, the President's Service Award (now President's Community Service Award), was received in 1998 from President Bill Clinton in an Oval Office ceremony.
Other national awards include a National Family Caregiver Support Award (2010) presented by The National Alliance for Caregiving and the MetLife Foundation; Exemplary Program Award for civic engagement or volunteerism (2006) and Exemplary Program in Caregiving (2001) presented by the National Council on Aging; Multi-Faith Meritorious Award for Alzheimer's Caregiving from the National Interfaith Coalition on Aging (2009); Award for Excellence in Older Volunteer Program Management from the National Association of Area Agencies on Aging and the MetLife Foundation (2006); and Service to Seniors Award bestowed by the National Committee to Preserve Social Security and Medicare (1999).
Each founder and the organization were honored nationally when Ronald H. Sunderland, Ed.D. received the Rosalynn Carter Caregiving Award in Americus, GA (1997) and Earl E. Shelp, Ph.D. received an America's Award from Norman Vincent Peale's Positive Thinking Foundation during a gala at the Kennedy Center in Washington, DC (1992). Closer to home, the Governor's Volunteer Award (2002) and the Harris County Judge Volunteer Award (2001) also pay tribute to the collective impact of Interfaith CarePartners.
The significance of our programs has won the support of high-profile persons who have donated performances, appeared at fundraising events, or accepted our Sustaining Presence Award. Award recipients include Barbara Bush, Nancy Reagan, Rosalynn Carter, Walter Cronkite, Art Linkletter, George Foreman, Dikembe Mutombo, Pat Boone, John Ratzenberger, Paul Rusesabagina, and Willie Nelson. Appearances and performances have been donated by Kris Kristofferson, Johnny Cash, Arlo Guthrie, Dolly Parton, Waylon Jennings, Willie Nelson, Morgan Fairchild, Angie Dickinson, Delbert McClinton, Jerry Jeff Walker, Rita Coolidge, Julio Iglesias, Johnny Rivers, and Lee Ann Womack. The 'stars' have shined so we can serve.
Inspiration and Emulation
Our caregiving concept and practices have attracted attention other than awards. From our earliest days of leading the nation in a congregation-based compassionate caregiving response to persons with HIV/AIDS, congregations and faith-based organizations, as well as secular social service agencies, have been inspired by our work. Groups across the country began HIV/AIDS caregiving ministries by adapting and utilizing our methods soon after we began publishing books and articles and lecturing at national and local conferences. Nearly all of these disease-specific programs have disbanded as therapies have transformed HIV/AIDS into a manageable chronic illness, rather than an imminently fatal diagnosis.
The appeal, utility, and impact of our caregiving principles and practices continue to attract the attention of groups across the country looking for a model program to replicate. Our effort to assist groups inspired by our programs takes two forms: written resources and personal consultation. Written resources include a manual that guides a congregation or agency to set up a single caregiving team or community program of multiple congregations, a toolkit for use by teams to be strong and effective, and continuing education modules on leadership, team building, and caregiving. From August 2010 – December 2012, these instructional resources have been provided to 61 groups in 23 states and 3 countries.
Assessing Our Past
As this summary of caregiving from 1986 – 2012 reveals, the impact of Interfaith CarePartners has been extensive and enduring. In addition to people our records document in the Care Team program, there have been many more unrecorded family members who have benefited from the compassion and simple acts of kindness Care Team members generously give to those they serve. These anonymous persons directly connected to our local program are multiplied countless times over by people serving in or served by programs across the nation that have followed our lead and utilized our methods. Similarly, we cannot fully know how we have assisted thousands of others who accessed a service we no longer offer or who have attended an educational conference, support group, or training class that we continue to conduct. We can reasonably infer, however, that in each instance a person with a specific need had a place to turn for help.
The stories of each person facing adversity and those of team members who embrace and uplift them are known only to God. These limitations, of course, mean that our past cannot be fully assessed. But, testimonies, data, honors, and program descendants elsewhere suggest that our 26 year journey has been a blessing to people near and far.