Recruiting non-paid family caregivers who also work at least 30 hours per week for a caregiving study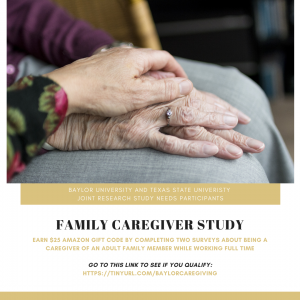 Do you provide non-paid care for a family member who is aging or has an underlying physical/mental disability or aliment in addition to your own job? Join Baylor University and Texas State University in a new research opportunity to learn more about family caregivers.
Baylor and Texas State researchers are seeking participants for a new study on how family caregiving affects work and family dynamics. We are recruiting adults who are working at least 30 hours/week and also serving as a family caregiver in the United States.
Participation only requires you to fill out two online surveys (approximately 20 minutes each, one month apart between Aug 31st and Oct 4th). In return, each person who completes the study will receive a $25 Amazon gift card with the possibility of earning up to $40 if you also refer other people to participate. Registration will close on August 30th.
To find out if you are qualified and to sign up, visit https://tinyurl.com/BaylorCaregiving
Thank you for your interest. Please contact Dr. Matt Quade () with questions.
About CarePartners
Founded in 1986, CarePartners is a nationally recognized nonprofit organization providing high-quality care for older adults and people with dementia, as well as their caregivers. CarePartners bridges the gap between healthcare and social services by offering nationally recognized programs across Greater Houston which support caregivers' physical and mental health while accommodating their loved ones' needs, interests, and abilities. Since the agency's founding in 1986, CarePartners' volunteers have delivered more than 3 million hours of free care representing $83.7 million.