CarePartners Volunteers Host a Drive-Thru Gathering Place at KUMC
There are an estimated 3.4 million family caregivers in Texas who provide day-to-day care for people who are older or who have disabilities. Nearly eight months into the coronavirus pandemic, family caregivers are facing more financial challenges, social isolation and are in need of support.
"The coronavirus has been hard," Gathering Place volunteer Heidi Fallon said. "My father passed away about a week before everything shut down. It's made it harder to recover because I haven't had the interaction with friends and caring people, and being able to get out and help other people."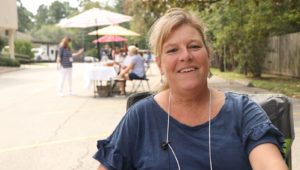 Heidi Fallon has been a Gathering Place volunteer at Kingwood United Methodist Church (KUMC) for ten years. She found out about CarePartners through the Kingwood Women's Club which is an organization that helps connect people with volunteering opportunities throughout the community.
"Normally we meet once a month with our care partners and have a party with them while their caregiver is able to take a break for themselves. Unfortunately, now we have to think outside the box, and that is what we are doing in this driveway," Heidi said.
The Gathering Place program began at KUMC in 2008 and in 2017 established a CarePartners' Second Family Care Team. Since our partnership began, we have served over 80 families and donated 5,866 hours of free care.
Due to the pandemic and wanting to limit the spread of this virus, CarePartners' leadership made the difficult decision to cancel all traditional in-person programming on March 14, 2020 through the end of the year.
"I miss the one on one time of being able to sit down and have a morning with one special person and brighten their day," Heidi said.
Spreading Hope Amid a Pandemic
The dedicated staff and volunteers have continued to fulfill CarePartners' mission to provide free support, education and resources to family caregivers and their loved ones.
"We are coming up with a way for our care partners and their caregivers to come and be with us for ten, fifteen minutes and just get a break from their boring routine and see some old friends, do some dancing, singing songs and playing a few games – trying to stay safe while still having fun," Heidi said.
Each family received a gift bag to take on their journey through the parking lot. Care partners enjoyed music, a ball toss game, a bird house craft project to take home and an inside the car scavenger hunt.
"At the very end we have one of our very most special people who comes to the Gathering Place, Donna Shepherd who does Zumba with them," Heidi said. "They are so used to seeing Donna every month, and she's the final act down there getting them moving and grooving, and then the leaders at this church are giving them a blessing to send them on their way."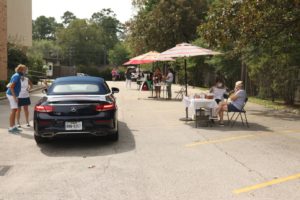 In 2019, CarePartners provided over 111,423 volunteer hours to 3,681 families which equates to $2.8 million in free care. During this pandemic crisis, Careartners has provided 4,175 volunteer hours to more than 1,000 families throughout the Greater Houston Area.
"I'm just so thankful for CarePartners finding a way  to make it work," Heidi said. This could have been something that crushed CarePartners, and what a shame that would have been because there is such a need out there."
About CarePartners
Founded in 1986, CarePartners is a nationally recognized nonprofit organization providing high-quality care for older adults and people with dementia, as well as their caregivers. CarePartners bridges the gap between healthcare and social services by offering nationally recognized programs across Greater Houston which support caregivers' physical and mental health while accommodating their loved ones' needs, interests, and abilities. Since the agency's founding in 1986, CarePartners' volunteers have delivered more than 3 million hours of free care representing $83.7 million.