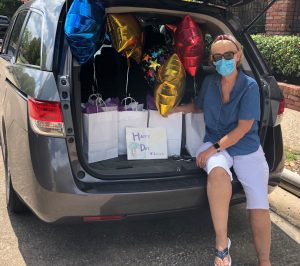 Volunteers from Clear Lake United Methodist Church put together some very thoughtful bags to deliver to 34 families in Clear Lake, League City, Pasadena, Seabrook, Friendswood, Sagemont and Baytown on July 10-13, 2020.
"We are so fortunate to have your friendship and support, especially at this surreal time," family caregiver Judith said. "Your energy and generosity are amazing and a blessing. In this heat, your stamina is endless! Your love and efforts are much appreciated!"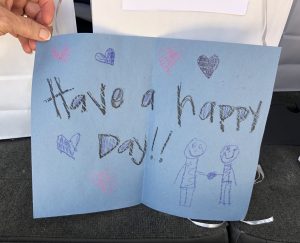 They wanted the bags to mimic Gathering Place activities, so they included custom word searches with the names of the care partners (clients) hidden within, adult coloring packages with colored pencils, two simple craft projects, snacks, a handwritten card, two CD's (one vocal, one instrumental) of music played at the Gathering, drawings made by the 3, 5 and 7 year-old children of a church family (Their mother was grateful – said it kept the kids busy for days!) and more.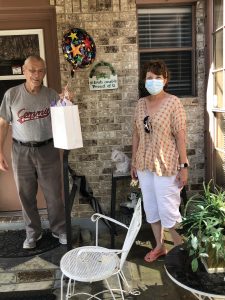 "Thank you for the wonderful visit and gifts," family caregiver Sherry said. "You all are angels and a real blessing to us. We appreciate you more than words can say. A real uplift to our day!"
While the contents of the bags were pretty fabulous, the visits themselves were the icing on the cake.
"What you do to keep in touch with your 'wards' is truly sacrificial," family caregiver Dagmar said. "Thank you and all your helpers from the bottom of our hearts. So many fun things in the bag and edibles as well – Erwin is happy about that!"
About CarePartners
CarePartners is a nonprofit, volunteer led organization that provides support, education, and resources for caregivers and quality care for those living with memory loss and other challenges of aging. Much of our care is for the vulnerable elderly and individuals with Alzheimer's or related dementia. CarePartners, serves all people at no cost. We provide life-changing care as well as educational and support services to families in the Greater Houston and Waco areas through our four core programs; Gathering Place, Second Family, Common Ground and Caregiver Educational Events. Visit our Monitoring the Coronavirus webpage for more helpful resources.