Have you ever traveled 93 miles just to make someone smile? On Monday, October 26th, dedicated Care Team® members from First United Methodist Church, Pearland (FUMC) loaded their vehicles with fall gift bags containing crafts, snacks, and other activities.
The volunteers embarked on a 93 mile journey to visit care partners (clients) and caregivers who were regular attendees at their Gathering Place. They were warmly greeted at each household and enjoyed a few minutes of conversation with distanced "air hugs", big smiles, and smiling eyes above their masks. Care partner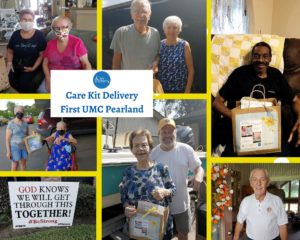 Prasanna gave them a gift in return when he played a tune on his harmonica. What joyful way to begin the week!
Volunteers on the Move
It was the "Gathering on the move," as our volunteer, Joyce Yoder called it. In the pouring down rain, we dropped off bags to eight families. CarePartners Care Team volunteers from FUMC, Pearland put together some very thoughtful bags to deliver on July 17, 2020.
Throughout this whole pandemic this team of volunteers has been connecting with our caregivers and care partners providing support and smiles with each visit. CarePartners has been partnered with FUMC Pearland since 2007 providing the Gathering Place and Common Ground programs.
About CarePartners
Founded in 1986, CarePartners is a nationally recognized nonprofit organization providing high-quality care for older adults and people with dementia, as well as their caregivers. CarePartners bridges the gap between healthcare and social services by offering nationally recognized programs across Greater Houston which support caregivers' physical and mental health while accommodating their loved ones' needs, interests, and abilities. Since the agency's founding in 1986, CarePartners' volunteers have delivered more than 3 million hours of free care representing $83.7 million.