"When life gives you lemons…"
Here are some photos of one of our very creative volunteer's weekly notes to our care partners (clients) and caregivers. Gwen Hunt is a volunteer from St. Stephen's United Methodist Church and  has been serving as the Gathering Place co-leader since it began at her church in 2014. Every week during this pandemic she has been creating different themed cards with activities inside. One of her notes included a lemonade recipe and color activity.

"She does this every week!" said CarePartners Coordinator Monica Holiday. "She makes the themed cards and includes some kind of printed activity with it, whether it be a word search, coloring sheet, maze or word game. This is the second time she has sent a puzzle with a message instead of a card."
For Gwen, care partners (clients) and caregivers quickly became like family, and when COVID shut everything down, she knew that it would be important to stay in touch, both for the families and for herself.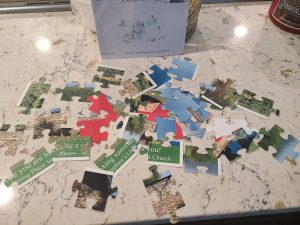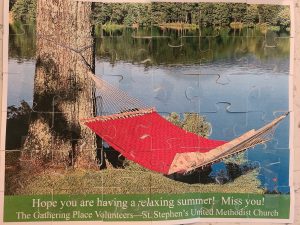 The puzzle note reads "Hope you are having a relaxing summer! Miss you! The Gathering Place Volunteers – St. Stephen's United Methodist Church."
Gwen says about the cards, "It turned out to be as much a blessing for me as for them. It gave me a purpose and a challenge at a time when we couldn't go anywhere or socialize with anyone. I continues because I enjoyed it and I have received the absolute sweetest notes from our caregivers telling me how much their loved ones have enjoyed them."
About CarePartners
Founded in 1986, CarePartners is a nationally recognized nonprofit organization providing high-quality care for older adults and people with dementia, as well as their caregivers. CarePartners bridges the gap between healthcare and social services by offering nationally recognized programs across Greater Houston which support caregivers' physical and mental health while accommodating their loved ones' needs, interests, and abilities. Since the agency's founding in 1986, CarePartners' volunteers have delivered more than 3 million hours of free care representing $83.7 million.