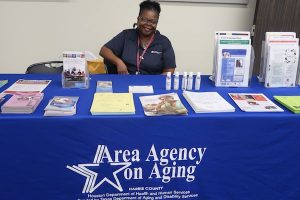 CarePartners provides education, support and resources to caregivers.  Our goal is to meet a family caregiver where they are in their caregiving journey and to provide them with quality support and education to help them take care of their loved ones better.  The overwhelming responsibilities of caregiving often times leave caregivers with their own health concerns and emotional strain.  We are here to provide emotional support, as well as educational tools and resources to help a caregiver take better care of themselves and their loved one.  If you are a caregiver who works part-time or full-time, we also work with corporations to provide working caregivers education, support and resources in the workplace.  All CarePartners programs are at no cost to the caregiver or their loved one who participates in a CarePartners program.
Conferences
Educational events that connect family caregivers with education and community resources on how to provide quality care to their loved one.
Congregational & Community Resources
Want to start a CarePartners program? We offer hands-on-training and award winning tools including our Volunteer Care Team model starter kit and materials.
Caregiver Resources
Learn more about how to be the best family caregiver to your loved one. Shared resources to connect you to tips, helplines, websites, services and specific Alzheimer's and related Dementia information.
Corporate Workshops
Join our corporate workshop program to assist your employees who are family caregivers. Reduce the stress of a working family caregiver by providing onsite caregiving workshops, resources and support.