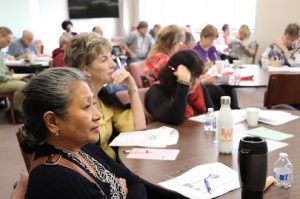 Caregiver Educational events are conferences and workshops that provide family caregivers with education and community resources that equips them to take better care of themselves and their loved ones. Events are offered in full day or half day conference formats, single workshops, or corporate lunch and learns.
Cost:  FREE
Registration: Required
Caregiver conferences and workshops are held in partnership with partnering congregations and nonprofits throughout the Greater Houston area. Each conference and workshop is created to support caregivers who are caring for loved ones of any age or illness, but specific resources are always provided for those caring for loved ones with memory loss; Alzheimer's, dementia and other challenges of aging. Speakers are volunteers who provide high level information in their field of expertise.
Full Day: Conference includes breakfast and lunch with workshops morning and early afternoon.
Half Day: Conference includes breakfast only with workshops in the morning.
Workshops: Single topic morning workshop, includes light breakfast.
Sponsorship and exhibitor information for conferences and workshops is listed below the calendar.
__________________________________________________________________________________________________________________

CarePartners and Find Houston Senior Care have partnered together to bring information and resources to Houston area families. As such, this series of 5 LIVE ONLINE Conferences will be offered  to help educate and inform the public about a variety of topics. Speaker and Sponsor Information.
__________________________________________________________________________________________________________________
Caregiver Educational Events Calendar
Stay up to date with the latest Caregiver Conferences and Workshops


Events for January 2021
Events Search and Views Navigation
Calendar of Events
Calendar of Events

| Monday | Tuesday | Wednesday | Thursday | Friday | Saturday | Sunday |
| --- | --- | --- | --- | --- | --- | --- |
| 28 | 29 | 30 | 31 | 1 | 2 | 3 |
| 4 | | 6 | | 8 | 9 | 10 |
| 11 | | 13 | | 15 | 16 | 17 |
| 18 | | 20 | | 22 | 23 | 24 |
| 25 | | 27 | | 29 | 30 | 31 |
+ Export Events
Past Caregiver Educational Events
Click here to view Past Caregiver Conferences and Workshops