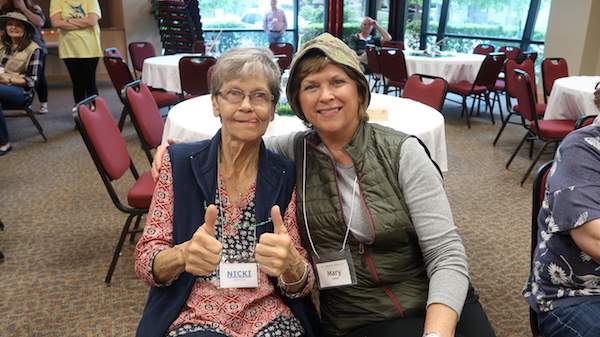 Are you a caregiver?
Does your loved one have memory loss; Alzheimer's, dementia or cognitive impairment?
Does your loved one have challenges due to aging?
Do you want your loved one to stay at home as long as possible?
Do you need respite – a break or time away from your loved one?
Do you feel supported?
Do you feel as if you have access to or knowledge of all the education resources available?
Family Caregiver Newsletters
We are here to help. We provide education, support and resources for family caregivers through our caregiver conferences and common ground programs. We want all caregivers to feel supported emotionally and practically.  In fact, we know that our conferences provide caregivers with information, education, tools and resources to help them take better care of their loved one. 99% of all caregivers attending a CarePartners caregiver conference say we meet their expectations. Common Ground provides a safe, judgement free, supportive atmosphere with other caregivers going through the caregiving journey. Many caregivers say that this group helps them cope and provides them with a network of friends that they can count on for support and answers.
We provide programs specifically designed to support an individual living with memory loss; Alzheimer's, other dementias or cognitive impairment.  These programs also provide respite for the caregiver.  Although, many times a caregiver enjoys staying with their loved one for a portion or duration of the program, we encourage you to take time for yourself.  Gathering Place is led by a group of caring volunteers who are trained by CarePartners Coordinators.  We equip volunteers with education, knowledge and practical experience to provide quality care for an individual with memory loss.  The components of this program; music, art, physical movement, fellowship and food, are specifically designed to get them involved and engaged.
Second Family is a homebound program focused on helping individuals remain in their home for as long as possible.  A group of volunteers from a local partnering congregation provide caring volunteers to visit the home to offer support and companionship. These volunteers are trained by CarePartners Coordinators. A family caregiver is offered respite – a break and time away from their caregiving responsibilities, while the volunteers offer support in their home.
All volunteers at CarePartners go through a volunteer screening to participate on a Care Team® that supports the Gathering Place and Second Family.
All CarePartners programs are at NO COST to the caregiver or their loved one.  We rely on the generosity of our partnering congregations, corporations, foundations, in-kind support, and individual donors.