Three Gathering Place Care Teams® in the Clear Lake area are providing support, love and smiles to our care partners and family caregivers.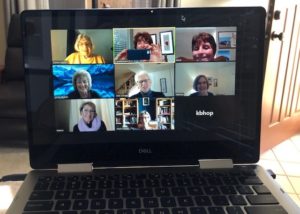 Back in January 2021, leaders from the Gathering Place Care Teams at St. Paul the Apostle Catholic Church, Clear Lake Presbyterian, and Clear Lake United Methodist got together on Zoom for a planning session.
The three teams decided to "band together" for the duration, until our in-person programs are able to resume. First up – a Valentine Drive-In taking place on February 5th in the parking lot at Clear Lake Presbyterian. Twenty-five volunteers in their Valentine finery took positions throughout the parking lot to greet our guests with smiling eyes, gifts from the heart and more Valentines than could fit in a decorated shoe box! Our Gathering Place families parked in the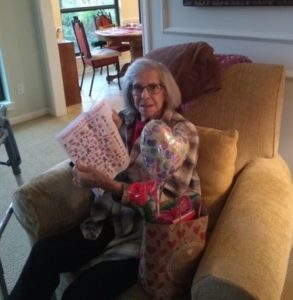 parking lot, appropriately spaced, and stay in their cars. Volunteers from all three teams mingled between the cars and spent time catching up while distributing valentines and other goodies.
The comment of the day that made our hearts go pitty-pat? "You all are so special and bring us so much joy!"
The lovely Rita was unable to attend the Clear Lake Tri-Team Valentine Drive In due to a prior commitment but a Care Team "Volunteer Valentine" made sure to stop by her house to deliver a heartfelt package to her front door.
The Gathering Place at Clear Lake Presbyterian Church is Back!
Clear Lake Presbyterian Church returned in full force last week (July 16, 2021). With twelve families in attendance and thirteen Care Team volunteers, including two joining in from other locations, there were lots of smiles and hugs to go around. Exercise included everyone trying to remember how to do the chicken dance, wonderful live instrumental music that moved us to tears
and singing at the top of our lungs. The team provided boxed lunches for each family at the end of the day letting them know that they could take them home or stick around to have lunch on site – everyone stayed for lunch on site!
About CarePartners
CarePartners is a nonprofit, volunteer led organization that provides support, education, and resources for caregivers and quality care for those living with memory loss and other challenges of aging. Much of our care is for the vulnerable elderly and individuals with Alzheimer's or related dementia. CarePartners, serves all people at no cost. We provide life-changing care as well as educational and support services to families in the Greater Houston area through our four core programs; Gathering Place, Second Family, Common Ground and Caregiver Educational Events. Visit our Monitoring the Coronavirus webpage for more helpful resources.