A CarePartners' Volunteer Story
Judy Ebling is a longtime volunteer at CarePartners and serves as co-leader of our Second Family Care Team® at Memorial Drive Presbyterian Church. She has served in that position for nearly eight years.
"My most fun is getting to know the people we call our care partners and they are marvelous people one in all, but for one reason or another due to illness or injury, the aging process, they have been kind of cut off from the fellowship of the church because they are homebound." Judy said.
Second Family is one of CarePartners four core programs. A team of trained volunteers become like a second family to help with tasks around the house, do errands, and most of all provide socialization and companionship.
"We have a lot of dedicated people in our church who want to follow Jesus's command that we love one another and love our neighbors, but you have to have an organized fashion in which to do it," Judy said. "CarePartners developed the Care Circle Model that we use to organize our volunteers so they can be the most help possible to the most people."
"They just need a little help and that's where Second Family comes in." – Judy Ebling
CarePartners assigns a staff coordinator to each host site location to be a liaison full of information, extra training opportunities and resources. The staff member participates in leadership meetings and is available to offer extra support to the program.
"They provide advice, training services, resources especially in the form of these caregiver conferences, which are just wonderful for putting us all in touch with various resources in the community that we otherwise wouldn't know about," Judy said.
In 2019, the Second Family program served 274 families and volunteers donated 17,196 hours of free, compassionate care valued at over $424,500.
One care partner in the Memorial Drive Presbyterian Church Second Family program does not have any family in the United States. Their family lives in England, so it's impossible for them to provide care.
"Sometimes, we are the only family a care partners has," Judy said. "We take food, we help out with minor household chores, we may take them to appointments – all the things a child would do for an elderly parent."
All of CarePartners services are offered free of charge, so donations make a difference in continuing to provide and expand these much-needed programs.
"I think it's important to donate to CarePartners," Judy said. "I want to see that work go on. I can not imagine how some of these people would ever be taken care of it were not for CarePartners."
Building Lifelong Friendships
One of the main aspects of the Second Family program is the chance for a homebound or aging individual to get socialization and to build relationships.
"I have one particular care partner that I've been assigned to almost from the very beginning and she is one of my oldest and dearest friends now," Judy said. " She's a wonderful person and very entertaining to talk to. She knows all about my family and I know all about her family. I lean on her about as much as she leans on me."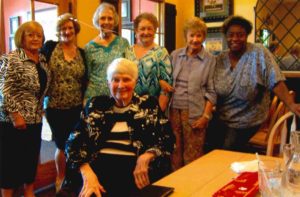 Judy is motivated to volunteer in the Second Family program by her faith in Jesus and to follow his commandment to love others. She loves building relationships with the care partners and seeing the dedication from the other volunteers.
"Every month we have a meeting and we each talk about the activities that we've doing and I always come out awestruck from those meetings at what our volunteers have done for others and how tenderly they have cared for them," Judy said.
This program creates a whole network of help for a homebound individual or family caregiver. Volunteers connect not only with the care partner who is receiving services, but also their whole family.
"We supply practical help, but the relationship piece of it is almost as important as that, and that relationship occurs not just with the elderly person or the ill person, but also with their family, their grandchildren, their children and their spouse."
Please contact our offices at 713-682-5995 or email for more information about our Second Family program.
About CarePartners
Founded in 1986, CarePartners is a nationally recognized nonprofit organization providing high-quality care for older adults and people with dementia, as well as their caregivers. CarePartners bridges the gap between healthcare and social services by offering nationally recognized programs across Greater Houston which support caregivers' physical and mental health while accommodating their loved ones' needs, interests, and abilities. Since the agency's founding in 1986, CarePartners' volunteers have delivered more than 3 million hours of free care representing $83.7 million.