Updates on our CarePartners' COVID-19 response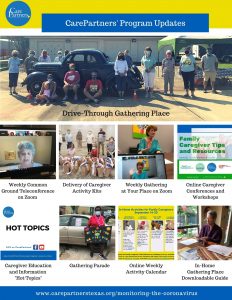 Although most in-person programs still remain closed at this time, our staff are working with each location to determine a timeline to re-open in-person events. We are excited to report that some Care Team® programs will be open soon. We are still offering online events such as Caregiver Education and Conferences. We anticipate 8-10 Gathering Place programs starting during the Summer with more added in the Fall. In addition, several of our Second Family teams are beginning to serve their members. We are excited to once again be with you and we will keep you updated on the latest news.
We aim to continue to fulfill our mission of serving our volunteers and family caregivers who are caring for loved ones with memory loss and other challenges of aging through our three priorities; Support, Education and Resources.
COVID-19 Risk Reduction – CarePartners' Updated Program Guidance – August 2, 2021
On July 27, 2021, the Centers for Disease Control and Prevention (CDC) updated their recommendations to control the spread of the COVID-19 Delta variant and have updated their information about the transmission of the variant.
CDC Updates on COVID-19: July 27, 2021
COVID-19 vaccines are safe and effective at preventing COVID-19, including severe illness and death.
COVID-19 vaccines are effective against severe disease and death from variants of the virus that causes COVID-19 currently circulating in the United States, including the Delta variant.
Infections happen in only a small proportion of people who are fully vaccinated, even with the Delta variant. When these infections occur among vaccinated people, they tend to be mild.
If you are fully vaccinated and become infected with the Delta variant, you can spread the virus to others.
People with weakened immune systems, including people who take immunosuppressive medications, may not be protected even if fully vaccinated.
Fully vaccinated people who have a known exposure to someone with suspected or confirmed COVID-19 to be tested 3-5 days after exposure, and to wear a mask in public indoor settings for 14 days or until they receive a negative test result.
To reduce the risk of being infected with the Delta variant and possibly spreading it to others, the CDC recommends individuals wear a mask indoors in public if you are in an area of substantial or high transmission. Harris County and surroundings areas are currently listed as areas of high transmission.
CarePartners' Updated COVID Procedures
To ensure all of our program participants, volunteers, and staff remain safe, CarePartners has updated our safety guidance and recommendations.
As of August 2, 2021:
CarePartners' offices will require individuals to wear a mask or face covering upon entry.
CarePartners' staff are required to wear masks or face coverings at all CarePartners' programs, even if the site does not require them.
All program participants (volunteers, care partners, and caregivers) are encouraged to wear masks or face coverings during program activities. CarePartners' will have masks available at all program offerings.
Each program site determines their COVID-19 risk reduction procedures. All program sites must communicate their safety policies and procedures to their assigned Care Team Coordinator. All program sites must include their safety procedures on program invitations, publications, and other public material.
Individuals who feel sick, exhibit symptoms of COVID-19 or another communicable disease, or that have been exposed to COVID-19 should not attend in-person programs and follow the CDC guidance for isolation and testing.
It is essential that we all do our part to keep each other safe and healthy. If you or an individual in your household is sick or have been exposed to COVID-19, please do not attend CarePartners' programs. If you receive a positive COVID-19 test result and recently attended a CarePartners' program, please notify your Care Team Coordinator or the CarePartners' office immediately.
Each volunteer, care partner, and caregiver has a different level of comfort about engaging in programs during this time. Some individuals may feel comfortable in an environment without masks; others may prefer more precautions. By including the site's COVID-19 safety procedures on all public facing materials, our caregivers and care partners can make informed choices about their program participation based on their comfort level. Caregivers are encouraged to call 713.682.5995 to identify program offerings that match their current desire for COVID-19 precautions.
We recognize the balancing act we all must play, and we appreciate your continued participation in our program. We will continue to update you as we learn more information. The safety of our volunteers and clients is our top priority.
Online Daily Activities Calendar, click on the accordion tab below to view CarePartners' Activity Calendars. Please note, the Daily Activities Calendar will no longer be updated but all past calendars are available. Visit our Events Calendar for information on workshops, conferences, programs and more.
In-Home Gathering Place Guide, click on the accordion tab below to view or print from home to help keep your loved ones and yourself engaged and entertained at home. Please note the downloadable In-Home Gathering Place Guide will no longer be updated, but all past guides are still available.
You can view our Caregiver Education Events videos on our YouTube Channel and Facebook Page. View our online calendar for information on upcoming events. These Caregiver Education Events will keep your loved ones active at home and provide you with resources during this time. Our goal is to bring you educational, helpful and relevant information about how to better care for yourself as a caregiver, and your loved one with memory issues or other challenges of aging. Our Caregiver Education is offered through social media "Hot Topic" segments, online caregiver conferences and workshops.
Below are also some additional resources that can help you stay informed and other resources such as free telephone learning sessions to help family caregivers. We will keep updating this page as soon as more information and resources are available.
Your CarePartners' coordinator will remain in close contact with you regarding resuming our programs. We are hopeful that the virus slows down and doesn't gain anymore traction than it already has in our community. We have developed a handout "Volunteering During a Crisis" which describes CarePartners safety recommendations for those sites considering resuming in-person programming. Please note that these guidelines are subject to change depending upon current local and state mandates and they may vary by location and the individual site's safety procedures. For more information, please feel free to contact your CarePartners coordinator or Tom Breaux
We encourage you to monitor the coronavirus (COVID-19) by staying informed and following the CDC and World Health Organization's updates and use basic preventative measures to protect yourself from the spread of respiratory diseases.
If you have any questions or concerns, please feel free to contact your CarePartners coordinator or Tom Breaux, COO/VP