Love, Music, Family and Faith – A Family Caregiving Story
Norma Jean and Craig Robbins have been in love since 1970 and will be celebrating their 50th Anniversary in January 2021. Their life together has been one filled with music, laughter and family. Faith and service are important to Craig. After raising four children, Craig and Norma Jean retired early in order to serve others. Together, they spent eighteen months in El Salvador and Belize, and two years in a Spanish-speaking area of Salt Lake City. While living in El Salvador, Craig organized a massive service project that directly benefited over 2000 people living in abject poverty by starting youth music lessons and orchestras to give teenagers an alternative to the lure of joining the gangs. In addition, their new music skill would provide self-esteem and a means of livelihood performing music themselves.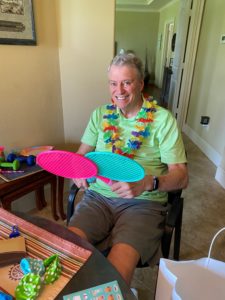 Craig loves music in all its forms, and became expert with both the piano and trombone. Music has been a wonderful blessing in his life. He played trombone in community orchestras and jazz combos, played piano, organ and sang in church and community choirs. Volunteers who have the blessing of seeing Craig at the Gathering Place know him by his jokes, his ability to wiggle his ears, his beautiful singing voice, and his love of dancing.
In 2012, Norma Jean saw signs of Craig's cognitive impairment when he had difficulty operating a vehicle. After moving to Houston and an intervention from their children, Craig received a diagnosis of Lewy Body dementia with Parkinsonism in 2018 and their life changed.
"Thank you for all that you and others do to help all of us through these unsettling times and this unsettling disease of dementia. You are our angels!"

-Norma Jean, caregiver
Lewy Body dementia is characterized by a build up of proteins, called Lewy bodies, in the nerve cells of the brain, mainly affecting thinking, memory, and movement. Symptoms include visual hallucinations, rigid muscles, slowed movement, shuffling walk or shaky legs, tremors, an inability to balance the body, and cognitive problems such as confusion, poor concentration, memory loss and difficulty sleeping.
For Craig, movement, balance and spatial orientation are the most challenging. He has difficulty following directions and cannot play many games that require visual elements but is a wiz at seated exercises and games.
CarePartners Supports Thousands of Families like the Robbins
Craig still loves music, and sings along to Pandora for an hour or more every day. It is amazing that he knows all the words to 40s, 50s, 60s, and 70s songs. He speaks fluent Spanish and is always a perfect grammarian. He is friendly and likes to get people to laugh with his silly handshakes or by wiggling his ears. And he still loves Norma Jean lots! (she reminds him of that all the time!)
"The [care kits] certainly brighten his day! My day is brightened by the lunch that is included, as it's a nice meal that I don't have to prepare," said Norma Jean when talking about CarePartners' Interim Programming. We have also enjoyed participating in the Zoom Gathering Places. Craig loves singing along and also likes the exercises. One of these Zoom Gathering Places motivated us to make root beer floats. So fun! We hadn't had one for years. Thank you for all you, and others, are doing to provide us with activities and fun breaks during our stay-at-home days."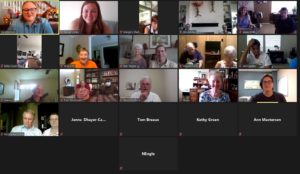 The staff at CarePartners is blessed to serve Craig and Norma Jean and so many caregivers like them. Even in this time of isolation due to COVID, we strive to serve our caregivers and our mission in new and creative ways through our Interim Programming.
Events like Gathering at Your Place, Drive-Thru Gatherings, Zoom Common Ground, and online Caregiver Education and Hot Topics are an important part of how we continue to provide resources, education, and support throughout the pandemic. 
About CarePartners
Founded in 1986, CarePartners is a nationally recognized nonprofit organization providing high-quality care for older adults and people with dementia, as well as their caregivers. CarePartners bridges the gap between healthcare and social services by offering nationally recognized programs across Greater Houston which support caregivers' physical and mental health while accommodating their loved ones' needs, interests, and abilities. Since the agency's founding in 1986, CarePartners' volunteers have delivered more than 3 million hours of free care representing $83.7 million.