Pop A Cork for CarePartners 2021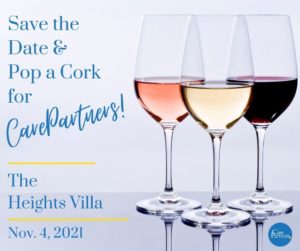 Join us November 4, 2021 from 6:00 p.m. – 9:00 p.m. at The Heights Villa for an evening wine tasting benefit.
CarePartners is pleased to announce our second annual wine tasting event in partnership with Élevage Collection and Village Liquor.
Enjoy a guided wine tasting perfectly paired with small bites. There will be networking opportunities, a wine pull, food, drinks, a silent auction and more.
Your support and attendance at Pop a Cork for CarePartners: An Evening Wine Tasting Benefit will help CarePartners continue to impact family caregivers and their loved ones across Greater Houston and surrounding areas.
We hope you and your friends and family are able to join us from 6:00 p.m. – 9:00 p.m. on Thursday, November 4th for this fun fundraising event that supports our mission.
Our Silent Auction is Now Open!
The silent auction is full of fun experiences including wine tastings, gift certificates to restaurants, rare cases of wine, artwork, and jewelry.


Enjoyed the wine from the tasting? You can still purchase your favorite wines from the event from Village Liquor through November 26, 2021. Visit their website or scan the QR code.