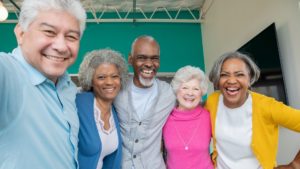 CarePartners' partnerships are vital to our mission. Working with faith-based partners, nonprofit organizations, businesses and community partners helps us provide the highest quality care, share important local resources and promote healthy aging for family caregivers and older adults. In 2020, CarePartners' Care Teams® served 2,557 caregivers and their loved ones, 1,510 people attended caregiver educational events and volunteers donated more than 52,796 hours of free care. CarePartners' goal is to continue to reach new communities and make our resources available to all caregivers and aging adults in need. We are excited to partner with the Southeast Texas Geriatric Workforce Enhancement Program and join their community of aging-care professionals.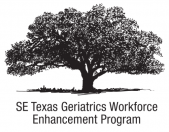 The Southeast Texas Geriatric Workforce Enhancement Program (SETxGWEP), a robust community of healthcare professionals collaborating to promote the principles of age-friendly care to improve health outcomes for all of us as we age, is pleased to announce the publication of their website at setxgwep.org.  The website is a repository of inter-professional training and education resources specifically on the care of aging adults. We invite you to explore the site and share it widely with colleagues, family and friends for valuable resources for older adults, caregivers, and healthcare professionals serving older adults.
SETxGWEP strives to promote, disseminate, and implement the key principles of Age Friendly Healthcare for health systems and community partners. Please visit the website at setxgwep.org for more information, training and resources. Find state-of-the-art education for healthcare professionals and community members in caring for aging adults. There is support for healthcare professionals and aging adults in the practice of age-friendly care, as well as community-based resources for persons living with dementia.
About CarePartners
CarePartners is a nonprofit, volunteer led organization that provides support, education, and resources for caregivers and quality care for those living with memory loss and other challenges of aging. Much of our care is for the vulnerable elderly and individuals with Alzheimer's or related dementia. CarePartners, serves all people at no cost. We provide life-changing care as well as educational and support services to families in the Greater Houston area through our four core programs; Gathering Place, Second Family, Common Ground and Caregiver Educational Events. Visit our Monitoring the Coronavirus webpage for more helpful resources.