Once more, the Zion Lutheran Gathering Place volunteers, aka the Little Team that Could, have been out roaming the streets and spreading good cheer! On Wednesday, August 12th, five volunteers plus CarePartners Coordinator Nanci Engle, paraded through the Heights and surrounding areas to visit care partners (clients) and their caregivers.
We called the event "Sundaes on a Wednesday" because our gift bags contained all the fixin's of an ice cream sundae or two, or three. Sprinkles, cookies, nuts, and cherries – oh my! At the last possible minute, a pint of Blue Bell Homemade Vanilla and a pint of Blue Bell Chocolate was added to each bag. A gift of consumables is always a good thing and the surprise brought lots of smiles and discussions if these items should be consumed immediately or after a healthy meal.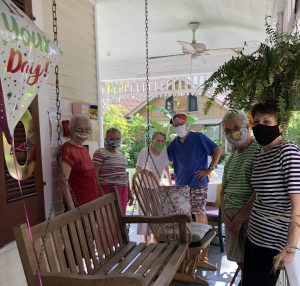 Visiting on the front porch with Carolyn and Richard, we heard the story of their recent 50th Anniversary and the parade in their neighborhood – decorations, wedding photos, and cards were still on display on their porch. At Margaret's house, she showed us one of her Gathering Place craft projects which had been recently framed.  And at Mildred's, Nanci had the opportunity to carry on a conversation in sign language and Mildred shared her excitement at her upcoming 100th birthday! Perhaps Blue Bell AND cake next month! – Nanci Engle, CarePartners Coordinator.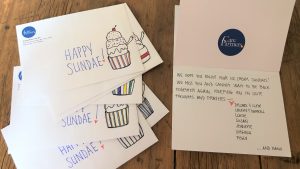 About CarePartners
Founded in 1986, CarePartners is a nationally recognized nonprofit organization providing high-quality care for older adults and people with dementia, as well as their caregivers. CarePartners bridges the gap between healthcare and social services by offering nationally recognized programs across Greater Houston which support caregivers' physical and mental health while accommodating their loved ones' needs, interests, and abilities. Since the agency's founding in 1986, CarePartners' volunteers have delivered more than 3 million hours of free care representing $83.7 million.