We are so grateful to those who attended our Sweet Charity 2021! A special thanks goes out to our sponsors, donors, program participants and YOU for making this event a success! We raised more than $140,000, but if you would like to help us provide free support, education and resources to family caregivers,
click here to donate.
Sweet Charity is our annual event to honor our volunteers and partners, while raising awareness and support to help advance our mission. In 2020, we mobilized nearly 1,800 caring volunteers who helped deliver quality support to 2,557 families, individuals and their family
caregivers. Approximately 52,800 hours of volunteer service, caregiver education and program support were donated which represents $1.44 million of free care.
Partnership Award
The Partnership Award was presented to Lakewood United Methodist Church.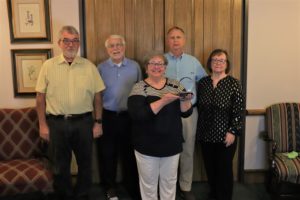 "I am so humbled by the passion that my team members have for these ministries," Lakewood United Methodist Church Pastor Pam Cline said. "This is a heartfelt expression of their love for God and for others. I just couldn't be more proud of how they have persevered during this difficult time. To think that we are getting recognized for doing what we love is just unbelievably humbling."
Dr. Ronald H. Sunderland Volunteer of the Year Award
This year, for the first time, we honored a special Care Team® volunteer from each of the following programs: Gathering Place, Common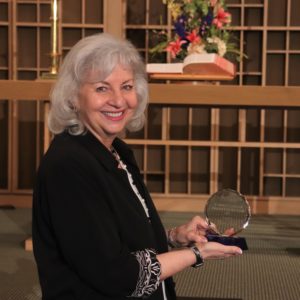 Ground and Second Family. 
The Dr. Ronald H. Sunderland Volunteer of the Year Award was presented to Gwen Hunt, Co-Care Team leader from the Gathering Place at St. Stephen's United Methodist Church.
"If we can help lighten the load for caregivers, and if we can let them know they are not alone then it is worth every minute," Gwen said. "I'm truly honored and very humbled and I just feel like I would like to share it with our team because it really was from all of us."
Our second honoree is Rev. Sharon Adair-Winslow, Facilitator from Common Ground at Klein United Methodist Church.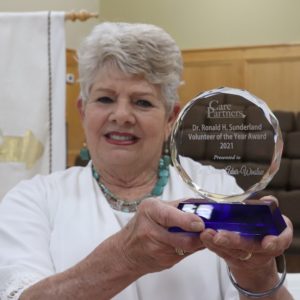 "I'm very, very honored and so very grateful they did this award," Sharon said. "You don't ever do any of this expecting a reward but it's real important to me to be an outreach in ministry and in mission, and to do for other people. If I could offer an hour a week that was just a little respite, just a little way of getting away, then it was worth it to me."
And finally, Linda Shook, Care Team leader from Second Family at Christ the Good Shepherd Catholic Church.
"As far as CarePartners, I truly believe in their cause and so of course I get a lot out of it too, but I believe in that cause and have seen that need in our church, and in my neighborhood, in my community and even in my own family," Linda said. "I feel so honored to receive the Sunderland Award. I know there are so many dedicated volunteers with Gathering Place, Second Family and all of CarePartners' programs."
About CarePartners
Founded in 1986, CarePartners is a nationally recognized nonprofit organization providing high-quality care for older adults and people with dementia, as well as their caregivers. CarePartners bridges the gap between healthcare and social services by offering nationally recognized programs across Greater Houston which support caregivers' physical and mental health while accommodating their loved ones' needs, interests, and abilities. Since the agency's founding in 1986, CarePartners' volunteers have delivered more than 3 million hours of free care representing $83.7 million.