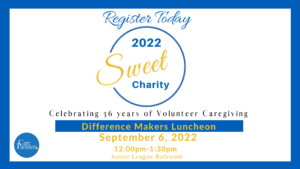 We are happy to share that Sweet Charity is back in-person this year, and we have exciting news! With 2021 having been such a remarkable year of giving, growth, and transformation for the agency, CarePartners' 2022 focus is on "gratitude". For years, we have honored partners and volunteers at our annual Sweet Charity Gala through our Partnership and Ron L. Sunderland Awards. This year, we are taking it a step further and making the event all about YOU, our volunteers and families!
CarePartners' 2022 Sweet Charity Difference Makers Luncheon will honor the years of dedication that our volunteers have shared across our programs. We hope you will join us on September 6th to celebrate 36 years of caregiving!
Special ticket and table prices are available for our volunteers, partnering congregations, and CarePartners' clients and families. For more information, contact Michelle Salazar-Martinez at 713.682.5995 ext. 2059 or .
Thanks to our Presenting Sponsor: