The Gathering Place Care Team® at Emmanuel Episcopal Church was able to host their first event in three years, a Drive-Thru Gathering Place, at their new location off of Barker Cypress Road. Unfortunately, Hurricane Harvey forced the team to take a break. The church welcomed nine families for singing, exercise, games, snacks, and a lunch to take home. They held another event in October to keep the fun going. Welcome back team! We missed you!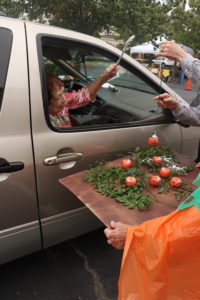 Volunteers grabbed their pumpkins, spiders and witch hats for the October drive-thru. Families enjoyed music, a toss the spider game and car exercises as they visited the ten different stops in the parking lot. The care partners (clients) used a fishing pole skeleton hand to fish for pumpkins filled with a sweet treat. Family caregivers said over and over how grateful they are for events like this. Each care partner had a smile on their face and everyone had a great time socializing, even if just for a few minutes.
About CarePartners
Founded in 1986, CarePartners is a nationally recognized nonprofit organization providing high-quality care for older adults and people with dementia, as well as their caregivers. CarePartners bridges the gap between healthcare and social services by offering nationally recognized programs across Greater Houston which support caregivers' physical and mental health while accommodating their loved ones' needs, interests, and abilities. Since the agency's founding in 1986, CarePartners' volunteers have delivered more than 3 million hours of free care representing $83.7 million.