Wondering how to start downsizing? Co-Owner of All Organized Mary Anderson is sharing her organizing tips, how to get started in the downsizing process and answering your questions. All Organized is a team of Senior Move Managers who understand how stressful a cluttered, unorganized house or senior move can be. All Organized was started as a way to help remove stress from people's lives as they move towards the next stage of betterment, according to their website.
"We help seniors make active choices for what they are choosing to keep in their lives as they go to a different sized home; whether that be into a community like independent living, assisted living or memory care, or whether that just be to a one-story house," Mary said.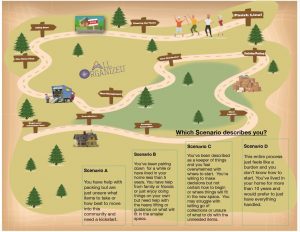 This Transition Can Be Fun
Moving, downsizing and even getting organized can be an overwhelming process. Sorting through possessions and going through a lifetime of memories can be daunting for both seniors and their caregivers.
"I highly recommend one drawer, one cupboard at a time," Mary said.
You can take Post-It notes and label each cupboard with a number. One Post-It note should go on each drawer or cupboard door, and set a timeline like one every day, week or whatever you decide. Go through one by one according to your timeline and only focus on that one Post-It note. Figure out what in that space is surplus and what do you actually need.
"A great questions to ask yourself is instead of, 'do I want this thing' it's, ' do I need this thing'?" Mary said. "If you're still kinda feeling the maybe game a little bit, ask yourself when was the last time you used this thing."
If an item doesn't make sense in your space, see if it's something you can gift to  close friend or family member. Let's say for example, you or your loved one is moving to a facility that doesn't have personal kitchens but you have a favorite Thanksgiving turkey platter that hasn't been used in few years.
"Gift it to someone in the family that is now taking on the tradition of cooking the turkey," Mary said. "We actually made kind of an event out of that process. She wrote this beautiful letter talking about her years with the turkey platter, the things she remembers about it, the time she burnt the turkey and then gave the item along with the note to her granddaughter."
Organizing Your Documents
Make sure to gather the important records first; Birth certificates, death certificates, marriage certificates, life insurance policies, wills, trusts and any other legal documents. Make sure to put them in a safe place before sorting through other paperwork.
"It builds your confidence if you know the important things are in a safe spot, then it builds your confidence when you go through the other piles," Mary said.
Another tip is to start with the oldest pile first. If it's a pile of mail that's been sitting around for awhile, start there. It's very likely that everything in that pile is going to be a quick toss into the bin.
"I don't make a lot of friends when I say this, but please hear me out, it's okay to throw away photographs, especially if they are triplicates," Mary said.
It's okay to throw out extra school photos, just keep one of them and throw the rest away. If you come across blurry photos or scenery pictures that you don't recognize, throw them away. It's insignificant to your long-term goal.
You can also save space by removing photos from frames and storing them together in a bin or a box. You're still able to look at them and have them nearby, but they aren't taking up the space on the walls.
Surplus and Duplicate Items
Often times, seniors will go from a three or four bedroom home down to a one bedroom.  Making decisions on what to keep can be challenging. Try going into the space, taking a deep breath and asking yourself, 'if I were to walk into this store, what would I buy?'
"Mark the things that you have chosen to keep, because if we don't mark them when we first think about them, then we are continuing to make the same decision again and again which tires us out," Mary said.
When going through this process with family, like adult children, it's much easier to mark down who wanted what items right away than trying to remember and having to go back and ask again and again.
"The most important thing is to keep your decision making down," Mary said. "Making surplus decisions and making extra decisions makes us tired, so just try to make it straightforward, and think about your future self as you're walking through this process. "
We see duplicates a lot in the kitchen. When going through your kitchen think about how often do you actually prepare food or entertain guests. How many measuring cups, cooking utensils, pots, pans and mixing bowls do you really need for your lifestyle?
"Generally we find between three and five of both measuring cups and measuring spoon sets," Mary said. "Unless you're baking in an industrial way, then you may not need all of those and so they are quick things that can be cut down."
Note: When getting rid of duplicate and surplus items, there are many donation facilities, like women's shelters or homeless shelters that would love household items. 
Don't Forget to Celebrate
Celebrate the time you had in a place, but also celebrate the opportunity to go on to the next phase. Moving or downsizing can be a great opportunity for you to take control of your space and start fresh whether that be at a senior community, with family or just to a smaller place. Celebrate all the small moments.
"If something calls to you that feels really like a heavy decision to make, if there's a lot of memories in an item or piece of furniture write it out," Mary said. "Kind of expressing and emoting your feelings on that help you decide how to let go of it."
About CarePartners
Founded in 1986, CarePartners is a nationally recognized nonprofit organization providing high-quality care for older adults and people with dementia, as well as their caregivers. CarePartners bridges the gap between healthcare and social services by offering nationally recognized programs across Greater Houston which support caregivers' physical and mental health while accommodating their loved ones' needs, interests, and abilities. Since the agency's founding in 1986, CarePartners' volunteers have delivered more than 3 million hours of free care representing $83.7 million.