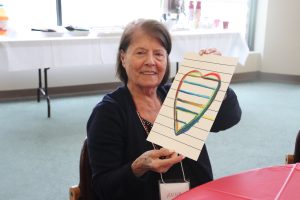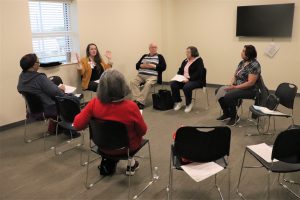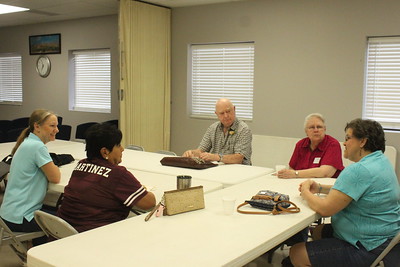 UPDATE
Common Ground on Zoom is ending July 6th
Although most in-person programs still remain closed at this time, our staff are working with each location to determine a timeline to re-open in-person events. We are excited to report that some Care Team® programs will be open soon. We are looking forward to once again being with you and we will keep you updated on the latest news.
Common Ground Teleconference is currently available to family caregivers seeking emotional support and encouragement; however, our staff is so excited to begin our reopening plans and getting back to serving family caregivers with our in-person programs, which means the final Common Ground on Zoom will be July 6, 2021. Until then, we look forward to seeing you online. Please follow the instructions below to join us on Tuesdays at at 10:00 a.m. CST.
Common Ground Zoom Meeting Information
Topic: Common Ground Teleconference Tuesday 10:00 a.m. Meeting
Join Zoom Meeting
*Now requiring a password. Please check your CarePartners weekly emails or call the CarePartners office at 713-682-5995 to receive information on how to join the call.
Dial by your location
+1 346 248 7799 US (Houston)
Meeting ID: 936 5351 5259
Find your local number: https://zoom.us/u/akGUgMRxR
*Each participant will state their name in roll call and be given an opportunity to share their experience based on the topic provided by the Common Ground leader. Time for each caregiver will be between 3-5 minutes with an opportunity for the leader to comment on resources available and if other callers have feedback/advice for the caregiver at that time. Common Ground
support group calls will be limited to 1-1.5 hours per call.
WE WILL UPDATE YOU WHEN OUR IN PERSON COMMON GROUND PROGRAM WILL RESUME
Common Ground is a monthly program offering caregivers emotional support and encouragement. Two types of support groups are now available 1) Memory Loss for those caring for a loved one with Alzheimer's, other dementias or memory loss and 2) General for all types of caregiving situations. In collaboration with partnering congregations in Houston and the surrounding areas, Common Ground groups are informal, confidential and offered free of charge.
Cost:  Free
Registration: Required
Download the below documents for further information on a typical day at Common Ground and what to expect as a caregiver.
Download – A Typical Day Download – What to Expect as a Caregiver
To find a Common Ground nearest you, enter your zip code below:
Step 1: Click the zip code locator search below to find a Common Ground program near you.  Enter in your zip code and click the radius you are willing to drive.  Do not contact the host site to register, all registration and eligibility to participate is completed by CarePartners.
Step 2: Only ONE email to a CarePartners Coordinator to learn more about how to register for a program near you is needed. In the email inquiry include the following:
Cell or home phone number
Your name and name of the person you are caring for
Details about your need
Name of each location you are interested in attending
Step 3: CarePartners Coordinator will set up a time to complete your registration intake before you are able to begin the program.
It looks like there are no Partners in your area that are in the program you selected.
---
FAQ's