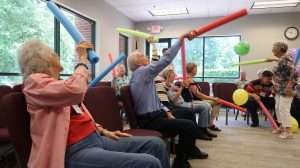 CarePartners continues to monitor the rapidly changing developments regarding the coronavirus (COVID-19) and during this pandemic, we are not offering any of our traditional in-person programs until further notice. Our staff and amazing volunteers will continue to fulfill our mission in new and creative ways.
We at CarePartners know how hard it can be for family caregivers and their loved ones to not be able to attend their favorite Gathering Place program. We are providing an entire In-Home Gathering Place Guide that you can view or print from home to help keep your loved ones and yourself engaged and entertained.
CareParners is also providing an Online Activity Calendar filled with fun crafts and stay-at-home activities for you and your loved one. It also has information on resources and online live events from CarePartners. Call our office at 713-682-5995 or contact your assigned CarePartners coordinator for more information about our Drive-Through Gathering Places and Gathering Parades.
NEW
Everyone is invited to a Gathering at Your Place
CarePartners is excited to offer a new expression of the Gathering Place program which takes place online via Zoom conference and includes activities for caregivers to do along with their loved ones while at home. These activities are led by our staff and volunteers every Wednesday from 10:30-11:15 a.m. and include many of the fun and engaging activities of our in-person Gatherings: Welcome, invocation, fitness, entertainment or music, games and closing.
Zoom Meeting Information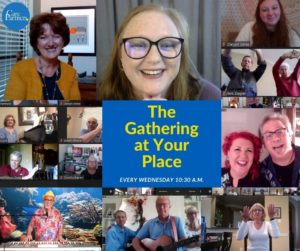 Topic: Gathering at Your Place
Every Wednesday
10:30 a.m. – 11:15 a.m.
Join Zoom Meeting
*Now requiring a password. Please call the CarePartners office at 713-682-5995 or check your CarePartners' weekly email to receive information on how to join the call.
Dial by your location
+1 346-248-7799 US (Houston)
Find your local number: https://zoom.us/u/akGUgMRxR">https://zoom.us/u/akGUgMRxR">https://zoom.us/u/akGUgMRxR
Family caregivers caring for loved ones with memory loss, specifically mild to moderate Alzheimer's, other dementias or cognitive impairment can participate in this 3 to 3.5-hour program.  Caregivers receive respite, a break from caregiving responsibilities, while their loved ones participate in planned activities such as games, music, arts, crafts, lunch and socialization.
Cost:  FREE
Registration: Required
This monthly program is held in partnership with congregations and nonprofits who provide space and volunteers who are trained by CarePartners to participate on a Care Team®.  These Care Team volunteers provide companionship and fun for individuals living with memory loss.
A registration intake is conducted by CarePartners staff to determine eligibility and welcome new participants to this program. Caregivers and their loved ones can participate in as many Gathering Place programs as needed each month.
Click the button below to download a pdf with information on a typical day at the Gathering Place.
Download – A Typical Day Download – What to expect as Caregiver
To find a Gathering Place nearest you, enter your zip code below:
Step 1: Click the zip code locator search below to find a Gathering Place program near you.  Enter in your zip code and click the radius you are willing to drive.  Do not contact the host site to register, all registration and eligibility to participate is completed by CarePartners.
Step 2: Only ONE email to a CarePartners Coordinator to learn more about how to register for a program near you is needed. In the email inquiry include the following:
Cell or home phone number
Your name and name of the person you are caring for
Details about your need
Name of each location you are interested in attending
Step 3: CarePartners Coordinator will set up a time to complete your registration intake before you are able to begin the program. You may not attend a program until a CarePartners Coordinator has determined your eligibility to participate in a Gathering Place program.
The following locations have unique qualifications, please contact Debbie Godfrey for Mamie George and Monica Holiday for Fort Bend Seniors.
It looks like there are no Partners in your area that are in the program you selected.
FAQ's