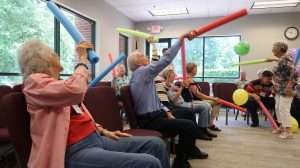 The Gathering Place is a FREE opportunity for family caregivers to receive respite, a break from caregiving responsibilities, while their loved ones participate in activities such as games, music, arts, crafts, lunch, and socialization in a safe environment.
This monthly program is held in partnership with congregations and nonprofits who provide space and volunteers who are trained by CarePartners to participate on a Care Team®.  These Care Team volunteers provide companionship and fun for individuals living with mild to moderate memory loss due to Alzheimer's or other dementias.
Caregivers and their loved ones can participate in as many Gathering Place programs as needed each month. Transportation is not provided.
This program was funded by a grant provided by the Alzheimer's Foundation of America.
---
To locate the program nearest you:
Enter your zip code, the radius in miles you are willing to drive, and click Search for the results.
To filter the results, click on Gathering Place to view all participating locations. Do not contact the host site to register.
To Register:
To learn more about the program, or to register, simply click the email address next to the staff name at that location or click on the Request Information button. A CarePartners staff member will contact you within 5-7 business days.
Please Note: pre-registration is required for all programs.
It looks like there are no Partners in your area that are in the program you selected.
---
FAQ's