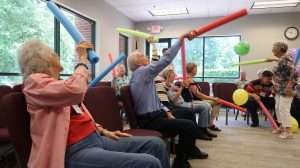 The CarePartners staff are working with each individual partner location to establish a reopening timeline for some of our traditional in-person programs. We have developed a phased approach to opening in-person programming. Each site can select which phase works best for their location as well as individual safety protocols. During all phases CarePartners will follow CDC and site-specific guidelines.
Please visit our COVID-19 response page for more information or call our office at
713-682-5995.
Changes to the Gathering at Your Place
We are sad to say that May 26, 2021 was our final meeting of the Gathering at Your Place on Zoom; however, our staff is so excited to begin our reopening plans and getting back to serving family caregivers with our in-person programs. We have LOVED connecting with you every week on Zoom, and you can find all of the Gathering at Your Place videos on the CarePartners website and on our YouTube channel.
Watch your favorite Gathering at Your Place recordings anytime, just scroll down on this page and look for the tab that says Gathering at Your Place Videos. Click here to watch a playlist on our YouTube channel.
Family caregivers caring for loved ones with memory loss, specifically mild to moderate Alzheimer's, other dementias or cognitive impairment can participate in this 3 to 3.5-hour program.  Caregivers receive respite, a break from caregiving responsibilities, while their loved ones participate in planned activities such as games, music, arts, crafts, lunch and socialization.
Cost:  FREE
Registration: Required
This monthly program is held in partnership with congregations and nonprofits who provide space and volunteers who are trained by CarePartners to participate on a Care Team®.  These Care Team volunteers provide companionship and fun for individuals living with memory loss.
A registration intake is conducted by CarePartners staff to determine eligibility and welcome new participants to this program. Caregivers and their loved ones can participate in as many Gathering Place programs as needed each month.
Click the button below to download a pdf with information on a typical day at the Gathering Place.
Download – A Typical Day Download – What to expect as Caregiver
To find a Gathering Place nearest you, enter your zip code below:
Step 1: Click the zip code locator search below to find a Gathering Place program near you.  Enter in your zip code and click the radius you are willing to drive.  Do not contact the host site to register, all registration and eligibility to participate is completed by CarePartners.
Step 2: Only ONE email to a CarePartners Coordinator to learn more about how to register for a program near you is needed. In the email inquiry include the following:
Cell or home phone number
Your name and name of the person you are caring for
Details about your need
Name of each location you are interested in attending
Step 3: CarePartners Coordinator will set up a time to complete your registration intake before you are able to begin the program. You may not attend a program until a CarePartners Coordinator has determined your eligibility to participate in a Gathering Place program.
It looks like there are no Partners in your area that are in the program you selected.
FAQ's